McMinn County School System Makes Boxlight's ProColor Interactive Flat Panels the New Classroom Standard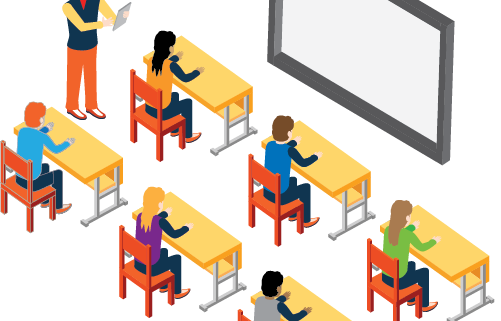 Flat Panel Installation Part of District's Initiative to "Even the Playing Field"
Lawrenceville, GA – Aug. 27, 2018 – McMinn County School System in Athens, Tenn., will be adding 115 ProColor interactive flat panels from Boxlight Corporation (Nasdaq: BOXL) ("Boxlight") to classrooms before the end of October as part of its "Even the Playing Field"
classroom initiative. Last year, the district purchased and installed 267 ProColor units, making for a total purchase of 382 interactive flat panel displays.
"McMinn is making classrooms with flat panels the new standard for our schools. Our classrooms previously had projectors and interactive whiteboards, but they were aging, with some being anywhere from seven to 10 years old," said Mickey Blevins, superintendent for the McMinn County School System. "Once you start replacing bulbs, the image gets dimmer, so teachers typically have to turn off the classroom lights. And the minute that happens, some kids won't pay as much attention. So we really wanted to look at technologies that could improve on that situation."
To do that, McMinn put together a team of stakeholders who conducted a thorough search starting with 20 touch panel manufacturers. "We had a pretty exhaustive rubric and narrowed it down to five," said Jill Pierce, McMinn County Schools' chief technology officer. "We chose Boxlight because it was the best technology and the most reasonably priced."
McMinn's initial purchase was for the 70-inch, high definition (HD) ProColor 701H flat panel display. The displays' Touch 360° interactivity features up to 10 single-touch points or five dual-touch for gestures — users can work simultaneously, driving collaborative learning. Users also have access to a wealth of applications in Office 365 & Google Classroom via an Android OS built-in browser. The 701H model has been a hit with teachers and students and will also be installed in this second phase.
This second purchase will include both the 701H displays and the ProColor 702U interactive flat panels, 70-inch, ultra-high definition (UHD) displays that provide 4K-clarity so that onscreen content is easier to see, even in large classrooms. The 702U displays' Touch 360° interactivity features up to 20 single-touch points or 10 dual-touch for gestures.
Pierce praised the quality of support that McMinn received from both Boxlight and reseller Central Technologies in Knoxville, Tenn., during the initial installation. "I can't say enough about them and how they worked with us to make it happen," said Pierce. "Those companies really became our partners."
The "Even the Playing Field" classroom initiative also involves the installation of sound systems from audio company TeachLogic. According to Pierce, many students in already-outfitted classrooms are reporting being better able to see and hear front-of-classroom work from their seats. "It's been a real advantage for those classrooms," she said.
About Boxlight Corporation: Boxlight Corporation (Nasdaq: BOXL) ("Boxlight") is a leading provider of technology solutions for the global learning market. The company aims to improve learning and engagement in classrooms and to help educators enhance student outcomes, by developing the products they need. The company develops, sells, and services its integrated, interactive solution suite including software, classroom technologies, and professional development and support services. For more information about the Boxlight story, visit http://www.boxlight.com.
Forward Looking Statements: This press release may contain information about Boxlight's view of its future expectations, plans and prospects that constitute forward-looking statements. Actual results may differ materially from historical results or those indicated by these forward-looking statements because of a variety of factors including, but not limited to, risks and uncertainties associated with its ability to maintain and grow its business, variability of operating results, its development and introduction of new products and services, marketing and other business development initiatives, competition in the industry, etc. Boxlight encourages you to review other factors that may affect its future results in Boxlight's filings with the Securities and Exchange Commission.
About Central Technologies: Central Technologies is a leading technology solutions partner dedicated to delivering comprehensive and innovative solutions to its customers. The company combines cutting edge technology and a drive for excellent service to provide the best possible portfolio of solutions for schools, libraries, municipalities and small businesses. In addition, Central Technologies has been successfully involved in the E-Rate program for over 15 years, working with a diverse group of schools and libraries, including rural and urban, large and small, and supporting every type of demographic. For more information visit https://centralinc.com
Contacts
Media                                                             
Charlotte Andrist
Nickel Communications
+1 770-310-5244
[email protected]
Investor Relations
Michael Pope, Boxlight Corporation
+1 360-464-4478
or
Laura Bainbridge, Addo Investor Relations
+1 310-829-5400
https://centralinc.com/wp-content/uploads/2018/08/Boxlight_Classroom_wholeclass.png
488
501
central
https://centralinc.com/wp-content/uploads/2017/02/CTI-Logo-1.png
central
2018-08-28 17:46:33
2018-08-28 18:41:50
McMinn County School System Makes Boxlight's ProColor Interactive Flat Panels the New Classroom Standard